If you and your baby are heading to the pool, beach or a favourite swimming hole this summer, we have just what you need for extra FUN and confidence in your day. From helpful 'learn to swim' tips to contemporary swimming pants your child will love, BabyLove has you covered for a carefree summer ahead.
Reflective of the Aussie cossie, BabyLove's Swim Pants feature bold, colourful designs and are especially designed for all water use – so they won't sag or swell. With a unique 360-degree soft and stretchy waistband, they can be effortlessly pulled on for a snug fit, and there are easy to tear side seams for a quick change.
'Summer is synonymous with swimming and BabyLove Swim Pants offer babies a fun and safe way to enjoy the water. The bright range of playful designs are super comfortable and provide peace of mind when heading to the beach or pool this season,' said BabyLove's Marketing and Strategy Manager, Michael Joel.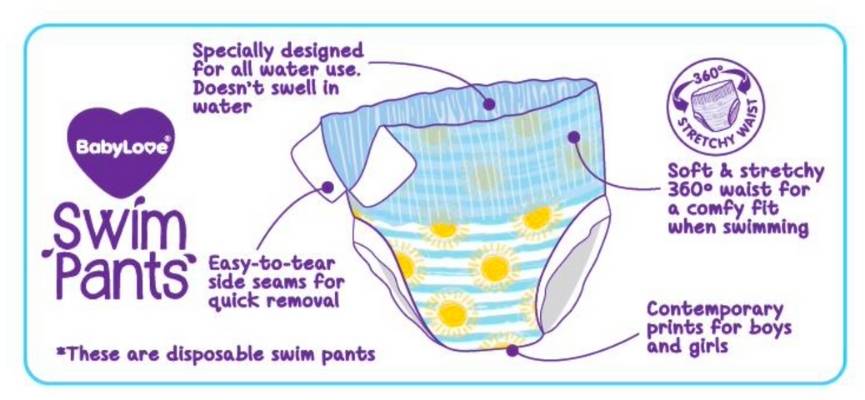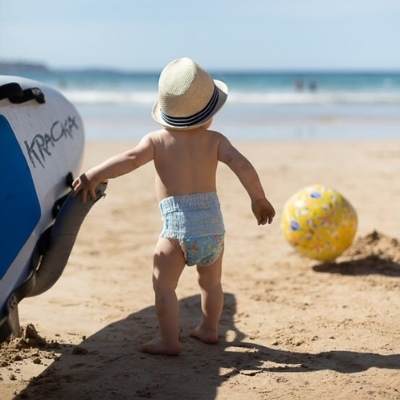 Research shows that 81 percent* of families use a nappy when they take their child swimming and BabyLove Swim Pants offer the latest innovation. BabyLove has also enlisted the experts in water safety and learning to swim, the Australian Swim Schools Association (ASSA), for practical tips to get you started. (*BabyLove 2019 Quantitative Research)
ASSA's 10 Baby Steps for You and Your Baby:
Use bath time to develop an affinity between your newborn and water
Hold your baby gently and introduce buoyancy and movement of water on their skin
Use a flannel and eventually a cup, to familiarise your baby to the sensation of water on their face
In swimming pools, securely hold your baby and encourage greater movement in the water to build their
muscles, coordination and confidence in the water
Start swimming classes! Babies readily embrace water so get started early. It's also a great way to eliminate
a fear of water developing later on.
Invest in a comfortable pair of goggles to see underwater and a swim cap to keep their hair off their face
Have a dress rehearsal – familiarise your child with their swim gear in the lead up to their first lesson
Arrive early, stress less – Arrive at least 10-15 minutes before class so everyone's relaxed and ready to go
Try not to distract your child – Remember the teacher will need your child's full attention
Have Fun! Swimming is important to your child's development, but so too is enjoying the class!
'Introducing babies to swimming early not only ensures their future safety around water but also leads to so many health benefits from gentle exercise, bonding through skin to skin contact, stimulating children's appetites and improving sleep. Learning to swim is an essential life skill that every child should have the opportunity to access,' says Australian Swim Schools Association's General Manager, Emily McNeill.
The unisex range of BabyLove Swim Pants is available in three sizes (S,M,L) spanning 6kg to 22kg, and are available
at Chemist Warehouse, Big W, Amazon and select IGA and pharmacies.