Do you want to have fun & make new friends ?
Are you competitive ?
Are you looking to enhance your fitness ?
Altona Swimming Club are inviting all local Hobsons Bay school-aged children, including non-squad swimmers that are looking to swim competitively.
Join the Altona Swimming Club and develop your swimming skills, build fitness, self confidence whilst expanding your social network over a range of 21 club sessions!
More information about the Altona Swimming Club:
The ALTONA SWIMMING CLUB Inc (ASC) is a junior swimming club based at the BayFit Leisure Centre in Mason Street, Altona North. We are affiliated with Swimming Australia Limited, Swimming Victoria Inc and Metro West District Inc (formerly the No. 1 District).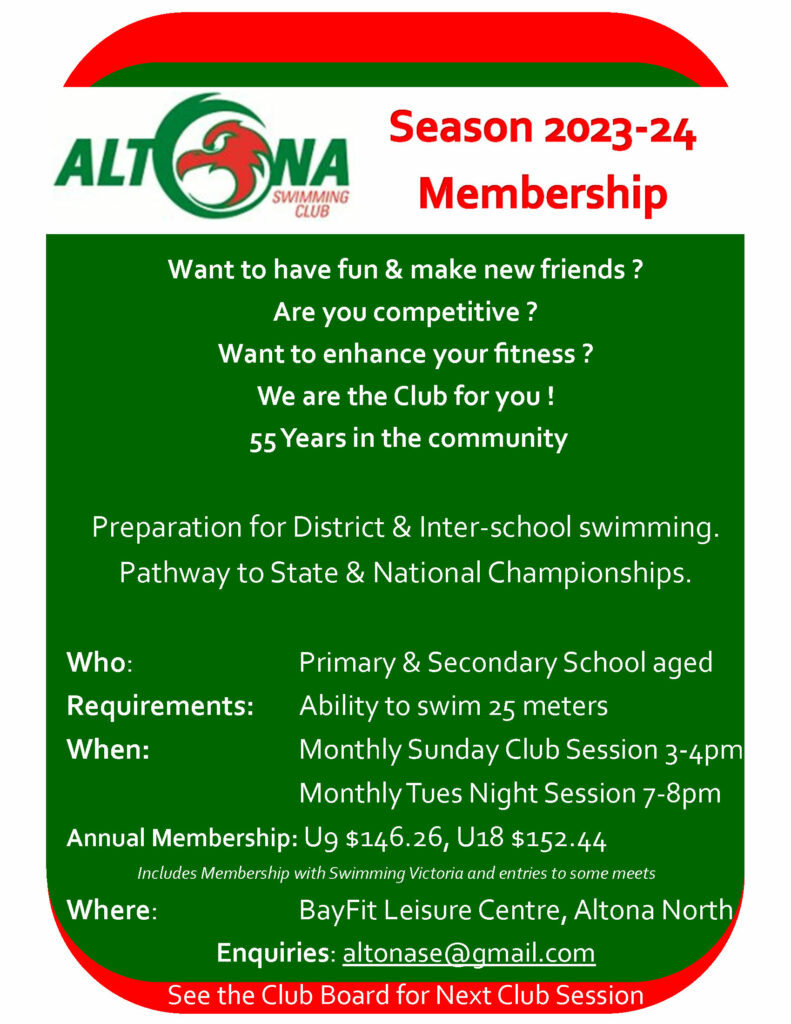 HISTORY
The club was formed in 1968, originally as the Newport Amateur Swimming Club, and was based at the pool in Melbourne Road (now Beaurepaires for Tyres). When the City of Altona (now Hobsons Bay City Council) built the BayFit Leisure Centre in the early 1980s, the club relocated and changed its name. It held weekly club nights on Wednesdays, starting at 7.00pm. We have 28 Perpetual Trophies.
SQUAD
In the late 1990s the club worked with council (BayFit owner & operator) to instigate a squad program, which evolved to be ASC managed. These days the squad is managed by BlueFit: a facilities management business that operates BayFit (and 30+ similar facilities nationally). The squad functions in tandem with BlueFit's Learn To Swim (LTS) program, and is the pathway for all graduated LTS students and local swimmers to competition.
COMPETITION
Not compulsory. We run a series of "Club Sessions" for member value with the intention to inspire members to try and then enjoy competition and its benefits. We are equally pleased to have members swim at "Club" level only. The committee's objective is to have kids achieve personal best times (PBs) as they develop with squad training and coaching.
We have a rich history of members swimming at all competition levels:
Club

District (Metro West)

State

National

Olympic (Kelly Barnes represented the club with distinction at the 1992 Barcelona
Paralympics, winning 2 Silver medals in S9 classification)
MEMBERSHIP is open to all interested families. Benefits include:
Preparation for school swimming carnivals

Complements Surf Life Saving Nipper programs (special mentions to our friends at
Altona Life Saving Club and Williamstown Life Saving Club)
Further development of swimming skills (an important life skill)

Development of fitness (VO2 Max capacity) and personal wellbeing

Opportunity to reach a higher level in competitive swimming (pool and ocean)

Opportunity to develop VO2Max capacity (great for all other sports)

Fun and friendship with other similar minded children (ie. Footy or Basketball are not the chosen sport of every kid)
WHY JOIN THE ALTONA SWIMMING CLUB?
The Committee views the club's purpose as providing a safe family-oriented organisation that develops the community's 9 to 16 year-old cohort into capable young individuals that are healthy and motivated to enjoy life and contribute to society. 
ASC is currently in a re-building phase post-Covid. The committee is predominantly focused on providing a pathway for the Angelfish level swimmer and above. Club activities can speed up every child's swimming development by building self-belief. 
In time, we hope to produce some elite competitive swimmers that will lead and inspire our younger members and the kids in BayFit's LTS program. The club is in a great position to support such a direction when ready. We also welcome any child that is 8 or younger and able to swim 25m of Freestyle.
Please email enquiries to preascse@gmail.com .